WE ARE OPEN 24/7 TO ANSWER YOUR CALLS!!! TO KEEP YOU UPDATED,  WE POSTS STATUS AND ANNOUNCEMENTS ON OUR FACEBOOK BUSINESS PAGE AT BEST WAXING CENTER, LLC ALMOST EVERY DAY ON THIS LINK .

However, NO SAME DAY BOOKING OR CANCELLATION.  Please call 202-470-3220  if you need an appointment or would like to cancel your booking on the same day.  We are now open 7 days a week to answer your calls,  including holidays (except  for Thanksgiving  and Christmas Day).  

BEST WAXING CENTER, LLC in D.C. was established in August, 2006 by MARIA L DUQUETTE. She has been in the skin care industry for more than 21years and has been servicing the Washington, D.C. downtown area since Year 2000.  She previously owned and managed three salons in  the Philippines and  relocated  to the U.S.A. with her family in 1996.  Maria is a Licensed Cosmetologist and Certified Electrologist. She  has extensive experience in electrolysis, laser hair removal, laser acne treatment, permanent make-up and microdermabrasion. In  August 2006,  she started her own skin care business.

BEST WAXING CENTER. LLC is extremely well-known for its superior service for body hair removal and very popular in BIKINI/BRAZILIAN waxing. MARIA trains her staff before they get to take clients and she is very strict with SANITATION. NO DOUBLE DIPPING STICKS and SKIN CARE TOOLS/BRUSHES ARE ONLY USED PER CLIENT.

We only take CASH at the moment.

We are open for services 7 days a week. Please check our schedule on the "book now" link.
Thank you for taking time to check our website.  We hope to be of service to you soon! 

THE MANAGEMENT












Caution: Do not be  lured by other waxing places that waxing procedure is PAINLESS...remember in every beauty procedure, it is always PAINFUL but bearable, and it is worth the pain.  Maria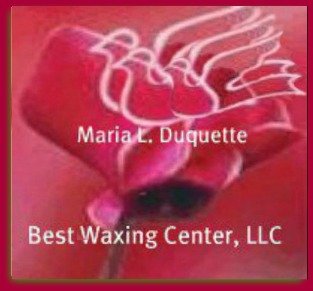 BEST WAXING CENTER, LLC

3070 M St., NW, Washington, D.C. 20007

BEST WAXING CENTER, LLC

3461 Washington Blvd., Arlington VA 22201

202-470-3220 (24/7 days a week call service)

My continuing education is for the best interest of my clients, for proper treatment and SAFETY. This is the reason we are proven to be the best. Maria (see Maria's Certificates ).
I do not pay nor ask anybody to make good reviews on my skills nor brag about it because I want an HONEST opinion and just not making it up. That is conscience!  My strong faith is what makes me who and what I am. PERFECTION is only from GOD,

for human as we are we make mistakes.

As the saying goes:

YOU DO NOT RISE WHEN YOU DO NOT FALL.

TO LEARN IS TO SUCCEED.

Thank you.  God bless.

Maria L Duquette